This article from
Fox Sports West
has been making some rounds on social media and for good reason: Nia Toliver is the real deal. The more athletes of her caliber that we can introduce to rugby while young, with competitive programs, reliable coaching, and by providing them the pathways to realize their ambitions, the better off rugby in the United States will be.
Nia is incredibly fortunate to be a part of a large
ICEF
program that has girls competing for teams at multiple levels; most girls high school programs in the United States field one team with players ranging from age 14-19. With structure, Nia has had the chance to begin her career against age appropriate competition and to be challenged by moving up to a varsity team out of ability rather than out of need. She also has a solid coaching system she benefits from, a geographically desirable location, a program that offers international rugby opportunities, development camps and more. That her family is already familiar with the sport as her sisters played before her is a huge bonus!
At the girls high school level there are a few programs that "act as if" they are varsity sports with 6 days a week of practice/weights/games. By treating rugby as a regular school sport with mandatory practices - just like soccer, volleyball, cross country and the rest - programs like Fallbrook in California, DSHA and Catholic Memorial in Wisconsin, Grant in Oregon, Kent in Washington, Snow Canyon in Utah, and State College in Pennsylvania stand heads above their rivals. In growing a culture where attendance at practice is mandatory, conditioning is the norm, and a full roster is available at games, these teams have reaped the rewards and placed quite high at the national level. The discrepancy between programs of this nature and others that are struggling with numbers at 2 trainings a week, that are scraping to have 15 players on the field showed, in my experience, at the Midwest and National championships. There is a huge gap between the levels.
Hopefully stories like this will motivate more and more young women to play the game of rugby and we can grow a pool of 300 Nias with her similar drive and work ethic by the 2020 games! The USA team just named its China 7s rosters and we have more crossover athletes making the team, we're bringing more elite athletes into the mix. The more athletes we can attract to the sport, and the more youth teams we can foster with greater numbers, the better competition so that a State Championship means more than winning out of 4 or 8 programs, and get to the point where all our youth players have the ability to dream like Nia would be amazing.
Star Rugby 7s has many players and our staff that are involved in coaching and developing the game of rugby. The day will soon come when each player has access to Nia's opportunities should they so choose it!
Rugby star Nia Toliver in a Rio state of mind
LOS ANGELES
-- Nia Toliver is that athlete opposing coaches try to keep off of the field.
And it happened, at least once.
Toliver, as an eighth grader, was in her second year in the
ICEF rugby program
,
which serves thousands of students in South Los Angeles
. At the time Toliver was splitting time with the varsity and JV squads.
The club was in San Diego for a league tournament. Toliver had already competed in a varsity competition. She was held out of another varsity match so that she could rejoin her JV mates. However, it didn't go according to plan.
When she took the field with the JV squad, Toliver was alerted she wasn't going to be allowed to play.
"The San Diego coach knew who she was and because she had been playing up with the varsity team as an eighth grader, he pulled some kind of obscure rule out of the rule book that said that because she played up she couldn't play down with the girls her own age so she couldn't play in the quarterfinal game and the team ended up losing," Toliver's dad, Nick recalled. "They pulled the card on us. They pulled the home cooking on us, basically.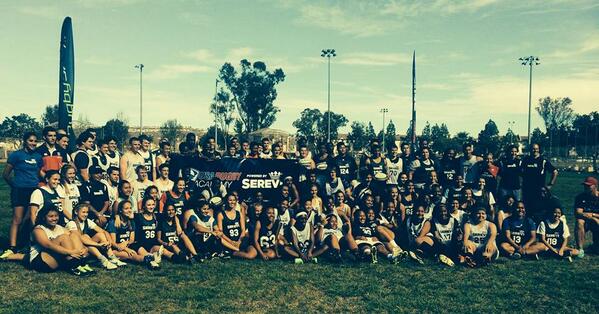 "She was bitter."
The next time she went to San Diego, a year later, she was reminded of the coach who kept her from playing. Facing the team and coach who kept her off of the field the year prior, she was able to let out all of her frustrations.
"She went out and scored seven times on them, like back to back to back, running girls over, slinging them off of her," Nick said. "And then I said 'baby girl, are you tired?' She said 'not even.'"
This weekend Toliver will be accompanying her ICEF rugby teammates to London where they will compete in the world's largest school rugby tournament. They will also visit the UK and France before returning home in early April.
Toliver has the desirable mix of speed and strength.
"She'll run by you or she'll run through you," her father said.
Her head coach, Stuart Krohn, has called her a "rugby prodigy." Only a sophomore, she's already considered one of the top players in her age group. She has her sights set on making the US rugby sevens Olympic team in 2016.
"I think it's really realistic," Krohn said of his players' Olympic hopes. "When she's 18, she's going to be a beast. There's no doubt about it.
"Barring injury or some major setback, I think it would be a big mistake if they didn't have her out there. And (if you) put her out there, then you're talking about a chance to medal."
Growing up, Toliver didn't have many interests. She tried basketball among other activities but nothing stuck. Rugby, however, did.
She watched her two older sisters, Niquise, 22, and Rashida, 20 and later followed in their footsteps.
Nia Toliver was a natural. Her first game she recalls running around, not having a clear idea of what to do but by games end, she had earned MVP honors.
"I (was thinking) this is the best sport I've played so far," Toliver said.
Shortly after the team gets back from France, Toliver will be heading to New Zealand for 22 weeks to attend Burnside High School and play rugby with the University of Canterbury, which is home to the best women's team in the world.
The experience she hopes will give her an even better chance to make it to Rio in 2016 with Team USA.
"I'm hoping, somehow, one of the Olympic coaches will hear about me and I'll get that chance," Toliver said.